Graduate Women in Economics
Objectives
Women are underrepresented at all stages of the economics profession.
The share of women earning a BA in economics is decreasing (it is roughly 1/3).
The share of women entering PhD programs has stayed at 30% for the past 20+ years.
Compared with men, women disproportionately fall off the academic ladder at every step, from job market placement in tenure track jobs to tenure and promotion.
The share of women who are full professors is increasing extremely slowly – it is still less than 15%.
One strategy to increase the number of women in economics is to encourage mentoring relationships between female students and female faculty members. To that effect, MU Graduate Women in Economics group (MU-GWE) was founded.
The mission of MU-GWE is to unite female students who study economics at the University of Missouri in any capacity, and to improve their university experience through social events and professional development. As of now the group consists of 8 female PhD students and 5 female faculty members.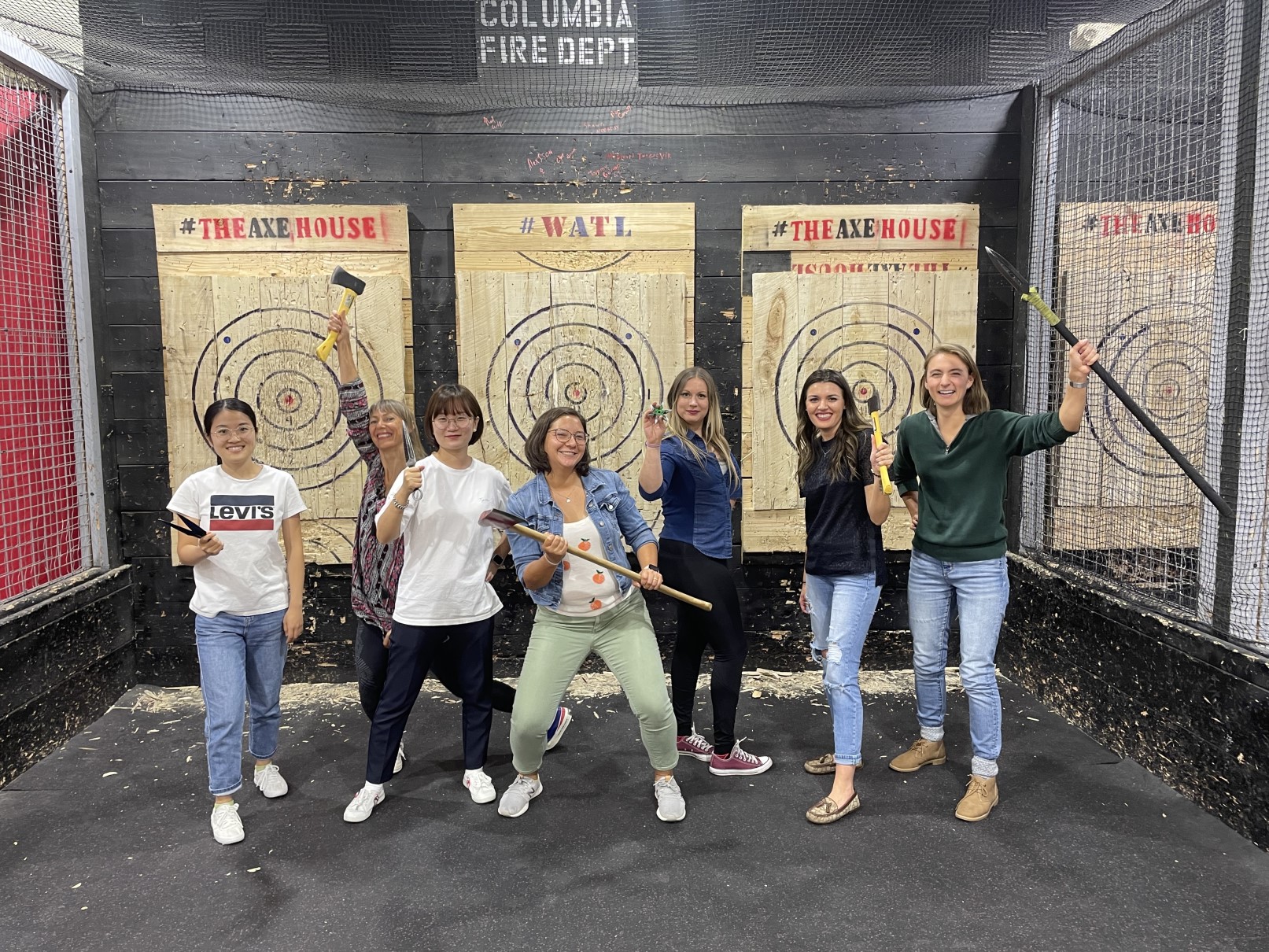 Social Activities
MU-GWE kicked off its inaugural year in 2019/2020 with a series of happy hours:
Shakespeare's Pizza on September 19, 2019

Rho Engine Room workout on September 23, 2019

Shakespeare's Pizza on October 25, 2019

Airlifter Brass concert on November 6, 2019

Shakespeare's Pizza on February 13, 2020

Moon Yoga on February 20, 2020
In 2020/2021 academic year we had one virtual event:
Zoom talk with a University of Missouri alumni Deb Lindner, Principal Economist at Board of Governors of the Federal Reserve System, on November 24, 2020
We resumed our in-person social events in Fall 2021:
The Axe House Columbia on September 9, 2021

Venture Out on November 7, 2021
Through these meetings we have gotten to know each other, and have discussed progress in graduate studies and in the profession. During our Shakespeare's Pizza outings, it has become our tradition to play Codenames, a board game.
Plans
In the near future, we plan to continue social events and to invite additional speakers. We are also working on strategies to involve MA students.
Interested in joining us? Want to learn more? Have news or resources to share? Contact Dr. Oksana Loginova, the faculty advisor of MU-GWE, via email loginovao@missouri.edu.
Resources